Using the Law-Answers legal fees map, our subscribers can see what they can expect to pay for legal advice in different areas of the country.
Using our legal fees savings calculator, our subscribers can then compare those rates with what they are saving by researching using one of Law-Answers.com's Help Desks

The data has been researched from publicly available sources.

To help our subscribers relate the rates to their daily lives, we have compared the cost of an hour's legal advice with a range of consumer products, such as a cinema ticket or a drink.
See also our: Personal & Family Help Desk / Brexit Help Desk / Legal Documents for Business / Legal Documents for Personal & Family / Legal Advice Hub / Business Help Desk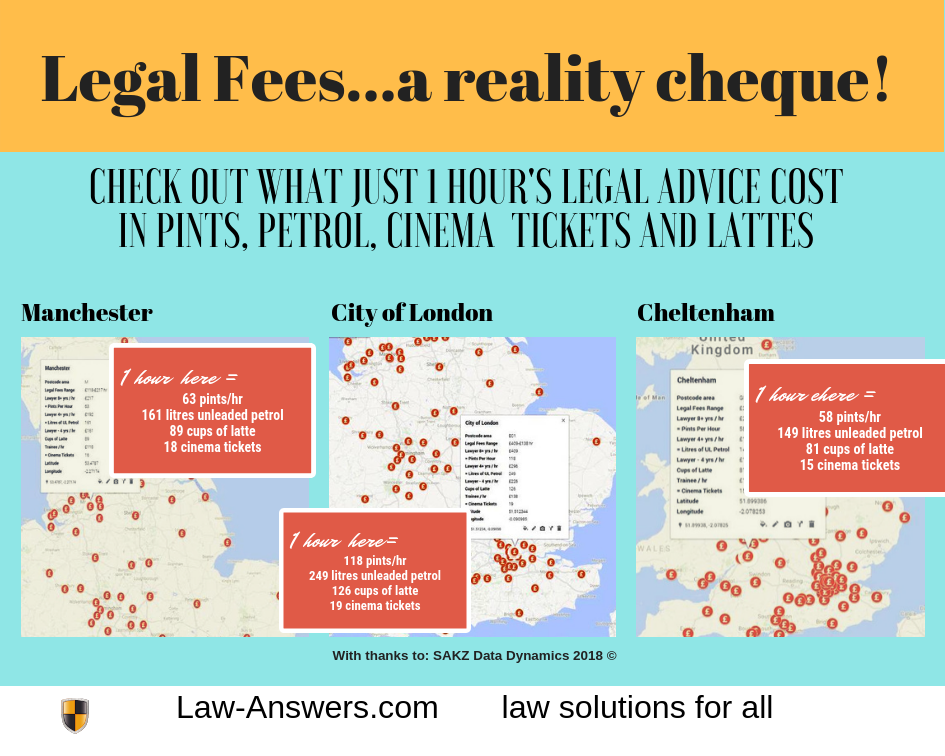 Atkins-Shield searches the website links and documents it uses on its Help Desks and tries to make sure it always complies with terms concerning our links to those sites. If you are aware that Atkins-Shield.com is potentially non-compliant with any such terms, we request that you kindly draw this to our attention by emailing us at info@atkins-shield.com. Your help in ensuring we stick to the rules of contributing websites is appreciated. The UK Government actively encourages users to link to its on-line sites through GOV.UK and its related information services. These are the Terms & Conditions of use for GOV.UK and its related website and on-line links. Atkins-Shield aims always to be fully compliant with these Terms & Conditions and with the terms of The Open Government License for Public Sector Information. These and all links and documents on Help Desk are provided on the basis of our Business Terms.