Essential guidance for businesses and entrepreneurs from selecting the right business structure to employment matters.
Business owners and managers are frequently confronted with legal issues to which they have no immediate answer.
Research clearly shows that many business owners and self-employed entrepreneurs are simply put off asking for legal advice by the time and cost involved.
Law-Answers.com's curated business law Help Desk will help members with their legal queries.
Advertising & Marketing /Associations / Bribery / Business Contracts / Business Finance / Business Set Up Resources / Charities & Non-Profit / Commercial Property / Company Taxation / Competition / Confidentiality / Corporate Governance / Cyber Security / Data Protection / Debt / Dispute Resolution - Mediation / E-Commerce / Employment / Export of Goods / Financial Advisers / Franchising / Health & Safety / Insolvency / Intellectual Property / M & A / Media & Entertainment / Online Marketing / Outsourcing / Private Equity & Venture Capital / Product Liability / Public Sector Procurement / Sale of Goods / Setting up a business / Sole Trader / Sole Trader (Self Employed) Document / Portal / VAT
See also our: Personal & Family Help Desk / Brexit Help Desk / Legal Documents for Business / Legal Documents for Personal & Family / Legal Advice Hub / Business Help Desk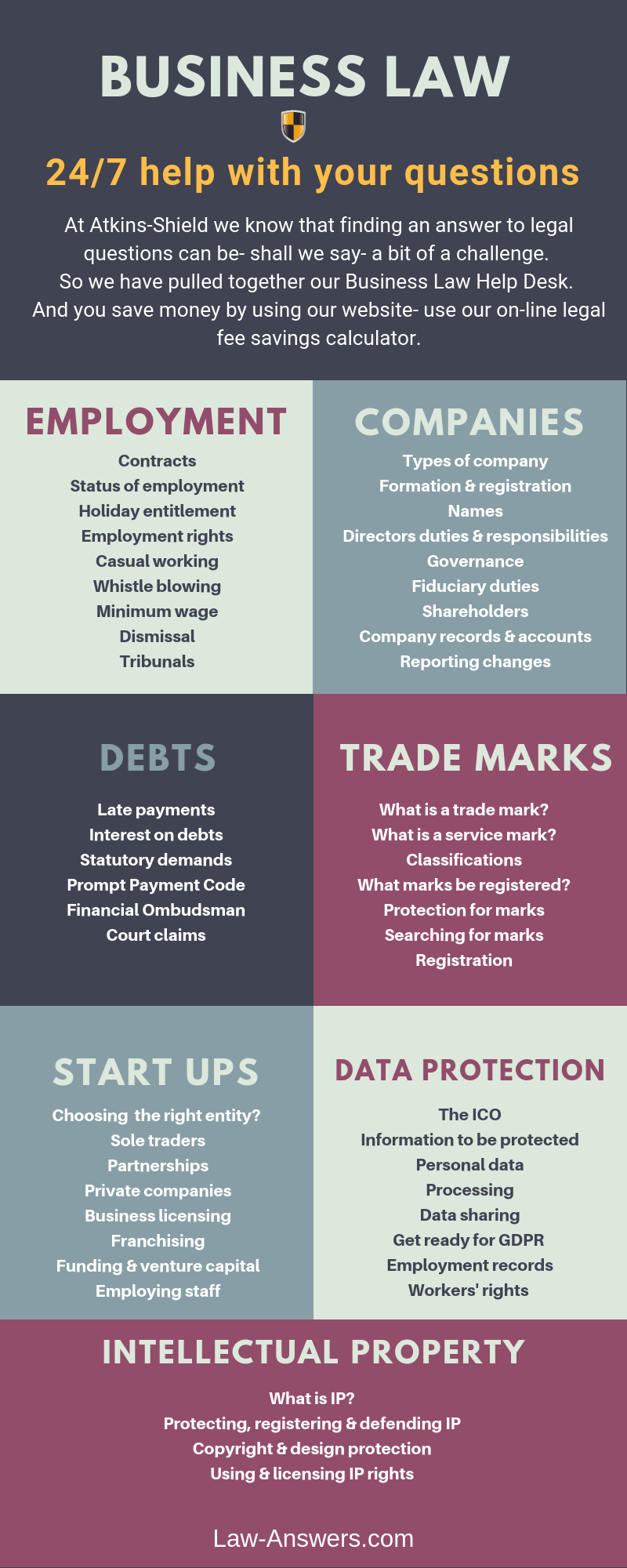 Atkins-Shield searches the website links and documents it uses on its Help Desks and tries to make sure it always complies with terms concerning our links to those sites. If you are aware that Atkins-Shield.com is potentially non-compliant with any such terms, we request that you kindly draw this to our attention by emailing us at info@atkins-shield.com. Your help in ensuring we stick to the rules of contributing websites is appreciated. The UK Government actively encourages users to link to its on-line sites through GOV.UK and its related information services. These are the Terms & Conditions of use for GOV.UK and its related website and on-line links. Atkins-Shield aims always to be fully compliant with these Terms & Conditions and with the terms of The Open Government License for Public Sector Information. These and all links and documents on Help Desk are provided on the basis of our Business Terms.